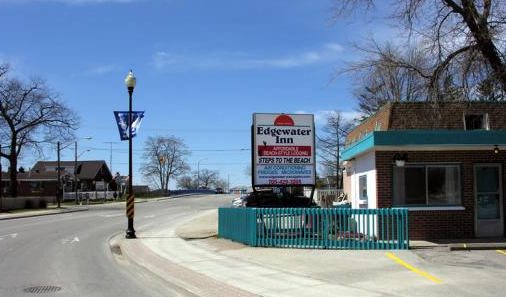 Edgewater Inn combines affordability and comfort at Beach Area 1. The Edgewater Inn is conveniently located at the Main St. Bridge, a 2 minute walk to the main beach area 1 and the strip in Wasaga.
Wasaga Beach is a very popular four-season tourist destinations in Ontario situated on the Nottawasaga Bay at the sourthern end of Georgian Bay. Over 2,000,000 people visit the town every summer to stroll the beach, as well as to enjoy the many diverse activities that are available both in Wasaga Beach and in the area nearby. Check out the many attractions under the "attractions" tab on our website.
Wasaga Beach has the longest freshwater beach in the world with 14 kilometers of safe white sand beach on Georgian Bay. The waters are warm and clean with the Wasaga Beach Provincial Park having been awarded the prestigous "Blue Flag" designation for it's efforts to manage Wasaga's shoreline according to international environmental standards.
There are endless recreation trails for hiking, cycling, cross-country skiing and snowmobiling through sand dunes, or pine-oak forests.
For a change from the beach, try casting your rod in the Nottawasaga River for some great game fish.
There's also sea-doo and bike rentals available right on the Edgewater Cottages and Edgewater by the Bay properties, with some great routes nearby to explore.
For those who like to get out at night, Wasaga Beach at Beach Area 1 has a very active night life with nightclubs and many restaurants to try.
Stroll along the boardwalk , through the parkland or along the shores of the beach or tackle the more strenous Blueberry trails which can be accessed just 5 minutes away from Edgewater Cottages.